Seal Coating Asphalt Surfaces for Asphalt Maintenance
Seal coat is a tough, thin layer of bitumen-based liquid for asphalt maintenance that hardens and seals the top of roads to provide a strong protective coat over your asphalt surface.
Just like painting protects the exterior of your house, sealcoating of asphalt surfaces protects your road surface from damaging UV rays, moisture, traffic and other harmful elements.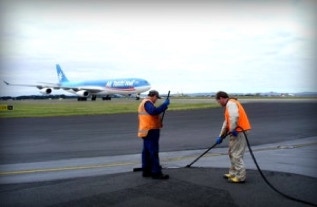 We use only the best seal coat for asphalt maintenance –developed specifically for New Zealand conditions
At TPMS, we use only the best, commercial-quality seal coating mix specially formulated for New Zealand roads and pavements.
Our unique seal coating mix starts with a very heavy-duty bitumen base that we've emulsified with a strong polymer and fibre to strengthen the seal by up to 300%. Then we blend this mix with a specially-treated silica to form a quick-drying, super-tough surfacing that not only stays flexible, but lasts the distance as well.
We're proud to say that the materials we use are far superior to anything else in New Zealand. We know, because we're the people who pioneered sealcoating in New Zealand.
A quality TPMS asphalt maintenance job from start to finish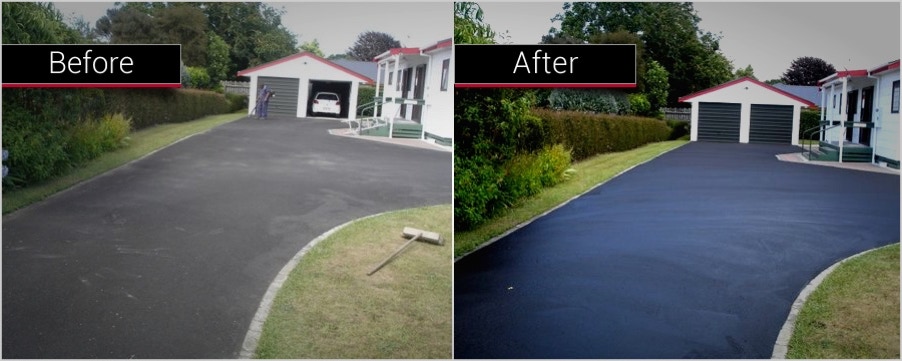 With over 60 years combined experience in sealcoating of asphalt surfaces, and over 10 years in sealcoating, you can rest assured that every job we take on will be performed to the highest standard.
It's the attention to detail that counts. And we take extreme care to ensure seal coating is applied properly and carefully, the surface is level and uniform, and that there are no splashbacks or overruns onto other nearby areas.
Here's how we carry out seal coating to asphalt surfaces:
1. We start by thoroughly cleaning the surface of any dirt, grit and oil, and trimming back any hedges.
3. Seal coating then begins. We use a combination of spraying, brushing and squeegeeing to accurately seal the asphalt, and to achieve a smooth, clean finish. A dedicated 6000-litre spraying unit will be used for larger jobs.
4. Once the bulk of the spraying is complete, we take great care to ensure sealing is done accurately around tighter areas such as around curbs and edges.
5. We protect the seal coated areas for around two hours, depending on weather, to allow the area to dry. Once it's dry, the area is ready for foot traffic. It'll be full strength and ready for heavy traffic within 24 hours.
The whole process takes hours, as opposed to days, or even weeks for reconstruction. It's fast, effective, and lasts for years before a recoat is required.
Contact us for a friendly, no-obligation chat. We're happy to explain the science behind sealcoating and all the benefits it can provide for your road, driveway or pavement areas.