Most asphalt and even chip-sealed surfaces start to degrade pretty soon after they are laid – with some very high-use surfaces needing to be reconstructed or replaced every few years.
Asphalt, otherwise known as hotmix, is a strong and durable surfacing that's commonly used for roads, pavements, hard standing areas, driveways, carparks and airport runways. But asphalt resurfacing is also prone to stress and damage caused by heavy traffic (trucks), UV rays (sun), atmospheric conditions (hot and cold temps), moisture (rain)and chemical reactions (oils and fuel).
That's a "reactive"approach that can behighly disruptive, time consuming and very stressful – not to mention costly. Think road works!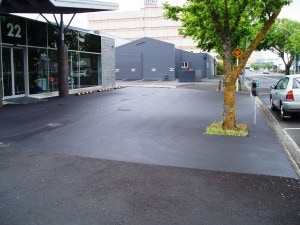 Take a 'preventative approach' to asphalt resurfacing with sealcoating
Rather than wait for your driveway or pavement to deteriorate to the point where major repairs or reconstruction is needed from scratch, sealcoating is applied either just after a new installation, or can be used to rejuvenate a previously sealed pavement.
This is consequently repeated every four to five years to provide an ongoing, water-resistant and protective seal over your pavement.
This prevents water ingress, additional UV damage and degradation, and keeps the pavement looking good for much longer.
The amazing thing about sealcoating is that it can extend the life of your asphalt surface for years. And because it's a topical treatment, the application is very quick, and far less intrusive than alternative treatments such as chipseal, reconstruction or hotmix replacement.
Plus, sealcoating is very fast and efficient to complete. New sealcoated surfaces are usually ready for foot traffic within an hour if conditions are right!
And, of course, you'll save money as well because its so cost effective.
Apply sealcoat to any existing sealed road surface
We can apply sealcoating to a range of existing sealed surfaces to extend its life and rejuvenate it:
Contact us for a friendly, no-obligation chat. You'll be surprised at how cost-effective and problem-free sealcoating can be.