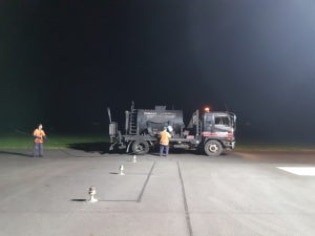 Cracks and fissures in your sealed surface allow moisture to get deep into your roading structure. This weakens the base and causes breakdown that can result in unrepairable damage to your road. Cracksealing prevents further damage.
It's important that cracks and fissures on the surface aresealed quickly and properly. If left untreated, they lead to further breakdown such as more cracking and eventually potholes, which then speeds up the whole deterioration process.
The result is costly, and unnecessary, major repairs. Or worse, total reconstruction or rehabilitation of the whole road itself.
A systematic crack sealing or overbanding plan will save you lots of roading problems and many thousands of dollars in potential repairs and maintenance.
How does crack sealing work?
Crack sealing or overbanding is a proven surface maintenance system that's highly effective for fighting asphalt and bitumen surface deterioration on roads, highways and other sealed traffic areas.
At TPMS, we use a premium-quality Deery™ Polymer modified bitumen based product from the US to treat cracks and fissures on all of our asphalt and bitumen and concrete surfaces, creating a robust, yet flexible seal against damaging moisture that can wreak havoc on your valuable asset.
The product does not require sand application to prevent tyre pickup and is almost immediately ready for traffic use after application.
In addition to our specialised crack sealing application system, our dedicated 2000 litre applicator will also concurrently heat, dry and blow out the crack or fissure in one concurrent process. Particularly if there is moisture present, this will ensure long term adhesion and a quality repair is always maintained for the client.
Working closely with you, we'll develop an effective and economical crack sealing and overbanding maintenance plan that enables us to treat your pavement surface at the first signs of distress. This will combat the problem before it eventuates into something worse.
We'll be happy to show you how a TPMS cracksealing and overbanding maintenance program can save you money and reduce the work of future road maintenance.